Frank Darabont has become something of the go-to guy when it comes to brining Stephen King to the big screen. His previous two efforts, The Shawshank Redemption and The Green Mile, were critical and box office successes in which he showed an innate understanding of the source material. In The Mist, based on the much-revered novella by Stephen King from his Skeleton Crew collection, he brings that same grasp of the complexities of ordinary humans reacting to the extraordinary that King has brought to his blood-soaked pages for years now. It's the original The Fog meets Jurassic Park steeped in some serious post-9/11 commentary on blind faith and the search for answers in times of uncommon fear and uncertainty.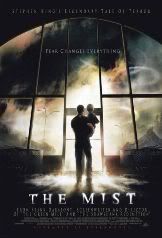 Thomas Jane headlines as David Drayton, movie poster artist and devoted husband and father, who ventures into town with son Billy (the remarkable little Nathan Gamble) and curmudgeonly neighbor Brent Norton (Andre Brauer) after a fierce New England storm sends a tree through his art studio and crushes Norton's car. While at the local supermarket, a local townsman (character actor Jeffrey DeMunn) comes running in, bloodied and breathless, with warnings about something "in the mist". Within seconds, the titular fogbank engulfs the supermarket, stranding several dozen shoppers. Over the course of several well-executed scenes, it becomes apparent that the strange mist holds unimaginable horrors. The trapped turn to, and on, each other in their fear and increasing insecurity.
Darabont's pacing is spot-on, with spectacular sequences of action and horror interspersed between engaging scenes of character development and human drama. Aided by the tag team efforts of Ronn Schmidt's moody cinematography and Hunter Via's crisp editing, Darabont's script comes to pulse-pounding life on the screen as few horror films in recent memory have. Darabont has an effective way of bringing out the nuances of King's written works in his screen adaptations, raising appreciation for the source material considerably in the process. In The Mist, he once again proves that he "gets it", that the horrors lurking just under the surface of those we meet walking down Main Street USA (in this case, the local supermarket) are often more horrifying than the monsters we conjure in the darkest places of our minds.
The ensemble cast is exceptional. Jane, who brings just the right balance to his action hero and devoted father role, is every bit the leading man here and probably the most convincing parent-protector since Dee Wallace in the film adaptation of King's Cujo. Audiences feel his heartbreak as he struggles to assuage his son's fears in the face of mounting hopelessness. The sorely underrated British actor Toby Jones (from The Painted Veil, Finding Neverland, and that other Capote movie) turns yeoman's work as kindly store employee Ollie into a memorably sympathetic and heroic character, while Frances Sternhagen, no stranger herself to King adaptations with her role in 1990's Misery, is a bonafide scene-stealer here as the feisty, grandmotherly Irene. Silent Hill's Laurie Holden and American Pie's Chris Owen show promise as well, while Brauer does his best with his clichéd role as the "heavy". Nods also go out to William Sadler and DeMunn who prove why character actors are so important to American cinema. It's Marcia Gay Harden, however, who is the standout here. As the more than slightly left-of-center religious zealot Mrs. Carmody, Harden is mesmerizing to watch as she skillfully develops the character from sideline joke to minor annoyance to legitimate threat. She embodies every facet of religious fanaticism to perfection, and her performance eerily conveys the dangers of blind faith in desperate times. In the hands of a lesser actress, Carmody could have come across as pure parody but Harden nails it, taking Carmody to dramatic heights without going over the top.
King purists may find something to gripe about by way of the film's ending, which varies significantly from the source material. Bleak and ironic to the point of absurdity, it's both a scarlet letter on Darabont's chest and forgivable given the near-perfection of the two hours that precede it. Hopefully, in this age of vapid remakes and the depressing lack of originality exemplified by films like Hostel and the glut of torture porn masquerading as horror it spawned, fans will forgive his transgression and realize The Mist for the red-bowed love letter to horror aficionados that it is.