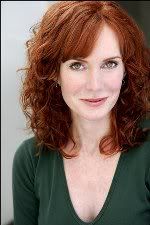 My pal, the wonderful actress Jamie Rose, will be a guest star on the hilarious CBS sitcom Two and a Half Men on Monday, May 5th at 9:00 PM EST. This is part of a crossover between Men and the wildly popular forensics drama CSI. Jamie will be playing a Marg Helgenberger-type in the episode titled "Fish in a Drawer," which is being penned by the writers of CSI and guest starring that show's George Eads. (The Men scribes will then try their hand at writing an episode of CSI later that week titled "Two and a Half Deaths," which airs on May 8th at 9:00 PM EST). I've heard of stunt casting before, but stunt writing? Promises to be interesting.
For those of you who haven't yet discovered this talented actress, I strongly suggest that you tune in. Jamie is a fabulous actor with a long and varied career that has included (for the horror fans) roles in the memorable slasher flick Just Before Dawn, the horror-comedy Chopper Chicks of Zombietown, and the 1990 chiller Playroom. Jamie is perhaps best known for her series regular role as Victoria Gioberti on the CBS primetime soap Falcon Crest and her series lead on the controversial ABC hit Lady Blue back in the 80's.
Since then, Jamie has gone on to establish herself as a reputable character actor and has guest starred or recurred on everything from Chicago Hope and St. Elsewhere to NYPD Blue, Cold Case, and ER. She recently let me know that she's also just landed a guest spot on the popular FOX drama House, MD.
I first became acquainted with Jamie back in June of 2006 when I interviewed her for Autograph Collector, and we've become fast friends since. In her spare time, she runs a very well-regarded acting studio and has quite a loyal following of up-and-coming Hollywood talent vying for spots in her packed classes. If you're an actor, you would be wise to check it out.
Oh, and it doesn't hurt that she's drop-dead gorgeous, too!
Bit of trivia...can you guess which Desperate Housewives role Jamie once auditioned for? Hint: It's not the one you'd think!
Anyway, seems like Jamie's on a well-deserved roll right now...so don't forget, Monday, May 5th @ 9:00 PM. Don't let me down.