...with happiness for my friend Lee Thomas who won the prestigious Lambda Literary Award in West Hollywood last night for his novel The Dust of Wonderland. Dust took the top honor in the Science Fiction/Fantasy/Horror category.
Lee is one of a small handful of extraordinary writers working in the dark genre field today who combines eloquent prose, mood, character, and atmosphere to create a unique brand of literar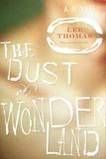 y horror. I had the opportunity to read and review Dust, and I wouldn't hesitate to recommend this superb novel to anyone looking to read something refreshing and deeply resonant. Get thee to the nearest bookstore and buy it. Now.
I'm also thrilled because Lee has contributed an original work of short fiction called "I'm Your Violence" to Unspeakable Horror: From the Shadows of the Closet, the gay-themed horror anthology that I'm co-editing with fellow dark scribe Chad Helder.