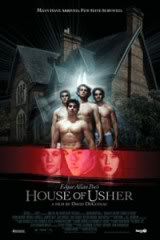 Guess I know what I'm watching this upcoming holiday weekend. here!, America's premium gay television network, recently premiered queer horror director David Decoteau's new film, House of Usher. The movie is loosely based on the Edgar Allan Poe classic short story, The Fall of the House of Usher. Hot guys with chiseled abs in tighty whities shrieking in terror coupled with classic Edgar Allen Poe…how can you possibly go wrong?

Michael Cardelle (As the World Turns) plays Victor Reynolds, a handsome young man (requisite for a Decoteau film) who receives a desperate letter from his childhood friend and first love, Roderick Usher (Frank Mentier of Days of our Lives). Roderick, a notorious recluse, has not left the grounds of his hilltop mansion in many years. He is in bad health and he needs Victor's love and care to survive. However, after a series of bizarre and spooky events, Victor realizes that both his friend and the house have a dark past that no one has lived to uncover.

here! "hopes to add a chilling and erotic twist on this story through an attractive and talented cast, and a script that is sure to provide titillating suspense. This classic tale of terror seeks to deliver the cinematic chills to all queer fans of the horror genre."

Decouteau's films usually mirror an Abercrombie & Fitch photo shoot, and if the trailer for his latest buff-bodied cheesefest below is any indication, he follows (birthday) suit with House of Usher. To read an interview that I conducted with the undisputed king of beefcake horror back in 2006 for AfterElton.com, click here.