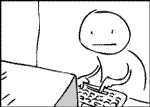 Yep. That's the name of the new book. Or should I say the name of the first new book because there are two? Anyway, after the surprising number of emails about the last installment of "Writerly Stuff", I figured a weekly writing column might be in order. Turns out I have more than three readers who are interested in what comes next. Go figure.

So this will become a combination of sorts – some weeks I'll reveal tidbits about the new novels as they evolve or share insights into my writing process, other weeks I'll offer some observations – formal and informal alike – about writerly topics. Might be entertaining, might be a big snooze. You're the reader – you decide. If your eyelids become unbearably heavy, head on over to one of the far more ingenious and entertaining blogs listed at right where you're guaranteed to find something that'll hold your interest. In any event, in addition to keeping you mildly bemused or piquing your curiosity enough to actually want to read one of these terror tomes when they're published, I'm hoping the chronicling of my progress with these two projects will keep them organized and fresh in my mind – and at the forefront of my writing endeavors.

So, on to the nuts and bolts, yes?

The Renewed is the working title for the first of the new projects. Somewhat of a departure from the slasher origins of The Literary Six, the new book is decidedly more supernatural in tone. Since I tend to envision and describe my work in terms of its cinematic counterparts and inspirations, The Renewed falls along the lines of The Fog meets Village of the Damned meets Dead & Buried meets Invasion of the Body Snatchers, maybe even a bit of The Ruins. Like Lit6, it's an ensemble piece with a diverse cast of characters and multiple points of view, although I'm attempting more of the storytelling through a primary POV with this one. I did some mentoring work with Stoker-winning author Jonathan Mayberry (Ghost Road Blues, Dead Man's Song) a few months back and he helped me draft a working synopsis of the entire book. Here's a condensed version of that ten-page abstract:

The Fountains is a nursing home like no other. While the state-of-the-art healthcare facility promises rest, relaxation, and renewal for its residents, the luxuriously appointed rest home offers social worker Mitchell Ackhart, gay, forty-something, and reeling from a split with his partner of 10 years, a new job and a new beginning in the coastal hamlet of Barberry Cove.

Following an unsettling late night encounter with a mysterious fog, Mitchell arrives for his first day of work and is introduced to the nursing home's staff - Helena Malmesbury, the stern administrator of the facility; the Reverend Linda Lawson, the nursing home's wheelchair-bound chaplain who knows a thing or two about being discarded by society; and maintenance worker Tobey Farnham, to whom attraction is immediate and strong despite an age difference of twelve years. He receives an ominous warning from Helena to stay away from the former building that the nursing home's residents and staff once called home, mysteriously closed years before, now sitting dilapidated on the grounds of The Fountains, shuttered behind locked doors and guarded by an odd proliferation of barbed plants.

His ill-omened introduction to the town aside, Mitchell acclimates to life in Barberry Cove and he and Tobey grow closer. But Tobey's ties to the increasingly mysterious town and his strange sensations of déjà vu while spending time together at Mitchell's seaside cottage become a nagging source of concern. It isn't long before Mitchell discovers a disturbing trend in the deaths of the nursing home's residents and realizes that all is not what it seems in idyllic Barberry Cove or the town's old nursing home.

Cue the ominous music.

A tease, yes. But it's something for now. In the coming weeks and months, I'll introduce you to the denizens of Barberry Cove and take you on a backstage tour of the literary set.