My latest article for Autograph Magazine explores the world of Stephen King collectibles from the unique and varied viewpoints of a professional autograph dealer, the owner of the world's first dedicated King bookstore, and a diehard fan.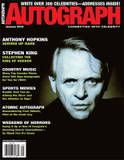 "From Bangor with Love: The Passion of Collecting King" is a six-page, full-color spread with several original photographs of the horror maestro in signing action. The article helps dispel myths about King's reported aversion to signing photos of himself and provides tips on starting a Stephen King collection. And, for the first time anywhere, fans can glimpse the typewritten, signed cover letter from a fourteen-year-old King to legendary horror publisher Forest J. Ackerman - believed to be the earliest King signature in private collection.
Here is a preview of the article. And don't forget to check out my roundtable
interview
with Jack Ketchum, Brian Keene, Deborah LeBlanc, and Scott Nicholson while you're there.