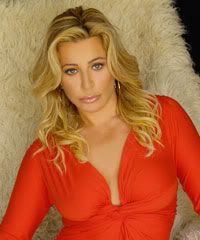 Just picked up Taylor Dayne's new CD, Satisfied. It's an incredible return to form for the 80's pop diva, who Billboard's Chuck Eddy recently called "the historical missing link between Laura Branigan and Celine Dion" - and, loving all three vocal powerhouses, I couldn't agree more. Among the standouts in the new set are the insinuating groves of I'm Over My Head (my personal favorite), the pop gem (and first single) Beautiful, the reggae-infused She Don't Love You, and a passionate cover of the Red Hot Chili Pepper's Under the Bridge. Nice to see a talented artist making a serious comeback bid. I'd seriously urge fans of great female vocalists and well-crafted pop music to check this one out. I predict that this CD will put her back on the musical map.


Funny Taylor Dayne story. Tracked her down back in late 2006 through her (then) reps Gold Mountain Music. Proposed an interview with Autograph Collector focusing on the new album and her long and varied career that included some acting bits in film and TV. Got the green light from her reps for an email interview - which don't always work and sometimes make it difficult for the interview to evolve as naturally as face-to-face or telephone interviews. Sent over the questions and mailed out a package of unsigned photos for her to sign that would accompany the interview. Got confirmation that she received both. Weeks went by, then we ushered in 2007. Emails went back and forth, with Gold Mountain promising me that Dayne's answers and the signed photos were forthcoming.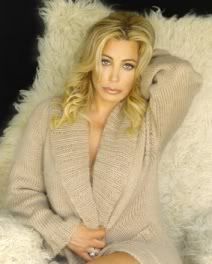 Finally received the answers in February of '07, but the photos were another story entirely. After several more weeks of back and forth, Gold Mountain reluctantly tells me that Dayne thought she had mailed the photos back to me, but (somehow) came to realize that a raccoon (yes, I said a raccoon) had made off with the package. The Gold Mountain rep said not to ask, and I didn't. Having invested so much time in the interview, I immediately contacted my European contact from whom I get many of the unsigned photos I use in my AC pieces and purchased another batch. As luck (or misfortune, depending upon whether you're a "glass half full" or "glass half empty" kind of person) would have it, a miracle occured on the very day the new (and relatively pricey) batch of 8x10's arrived. You guessed it. Dayne found the original batch of photos! As she herself once sang in the title track to her 1989 album, "you can't fight fate." Now, Dayne was gracious and not only signed and inscribed everything I had sent, she also sent along a signed concert DVD which was a lovely conciliatory gesture. Things were looking good that I was finally going to get this baby wrapped. Then I started to write the piece.
As I finished my intro and went to integrate Dayne's answers, I realized with sickening horror that her answers were sketchy at best. It looked as though she was either too busy or too disinterested (or, more likely, a combination of both), answering each question so briefly that one could almost hear her clipped, monosyllabic answers if read aloud. Still, I was good at layout and plumped and fluffed the piece as best as I could, stopping short of putting words into the pop diva's mouth. Besides, the pictures were lovely - and pictures are worth at least a thousand words, right? I took solace in that old adage as I came up about 999 words short.
Not surprisingly, my editor rejected the story a few weeks later, picking up on the same sense of disinterest on Dayne's part through her answers. Watching my hopes of a four-page spread quickly fade, I offered to re-write the piece, scaling it down to a "Ten Questions With..." kind of thing. No go. Unfazed, I resigned myself to another go-around, thinking that I'd re-establish contact with Dayne's folks at Gold Mountain Music, explain the situation, and see if they couldn't arrange a 15-20 telephone interview with Dayne so I could flesh the interview out a bit. As established earlier, however, one simply can not fight fate; in their perfunctory email response, Gold Mountain alerted me to the fact that they no longer repped Dayne.
Figuring that the work involved in tracking down and contacting her new reps and trying to re-start this entire process would now eclipse any hope of an actual paycheck from the gig, I surrendered to the fates - the same ones that Dayne told me through song that I just couldn't fight anyway.